Wing Kit
Many parts of this Wing Kit section could apply to any kitplane you are building. This section is written specifically for the RV-8, but a lot of the information may still be useful to you, even if you are building something else. Of course, it will be more useful to someone building an RV-6, 7, 9 or 10, or a different aluminum aircraft, than it will be to someone building a composite plane.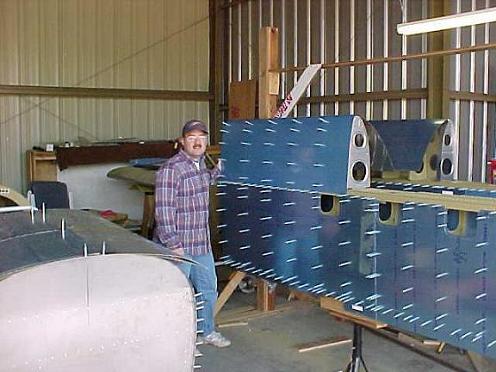 The wing kit takes a little longer than the tail. Don't get frustrated. I never went to the airport thinking, "I'm going to build my wings today." I just thought about the small part I was going to do that day. "Today I am going to flute and straighten all the wing ribs." You know the old saying, "How do you eat an elephant?"
I built both of my wings at the same time. I figured this would save me time. I could read the directions and set up the tools only once for each step. To make this possible, I built my wing jig with arms long enough to let me get between the wings. See Jigs for details. This also meant when I got help to buck the rivets, we could do both wings at once, and I wouldn't have to find help again.
You will start by assembling the wing skeletons, then fitting the skins just like for the tail kit. Throw in here the fun of playing with pro-seal to build the wing tanks. After all the parts are prepped and primed, you rivet it all together. Follow this with the ailerons and flaps, and finish with the fiberglass wingtips.
---
---