My '37 Chevy Truck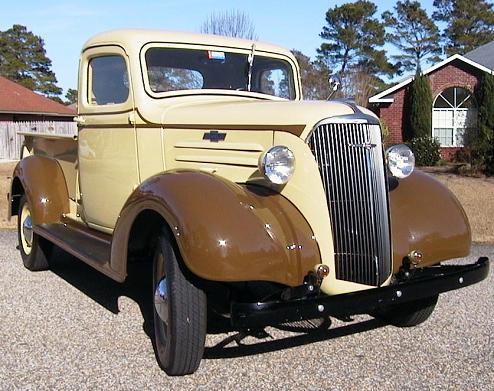 I found my 37 Chevy truck on the side of the road, dead, in Clovis, New Mexico. It took me no time at all to strip her down to the frame. The air in New Mexico was so dry the only rust was light surface rust. I sand blasted and painted the frame, and started the LONG process of rebuilding.
I had the engine rebuilt by a man named Billy Bob who had forgotten more about that truck than I'll ever know. He helped me make sure all the drive train was in order and within tolerances. He still remembered all those numbers correctly without reference to the book on his shelf. There was a "parts store" (junk yard) in town that had what was left of a 36-38 chevy ½ ton. There wasn't enough left to tell exactly which year it was. I got a few mechanical parts from it, and the two cross members for the frame I was missing. About the time I was done with the parts available from that parts store, the Air Force moved me down the road four hours to Alamogordo, NM.
There was a whole new set of parts at their parts store. I found the interior panels, and some other smaller sheet metal pieces I needed there. The blessings of the small town in New Mexico came up again when it was time to paint. I went into "the" paint store in town thinking I would look at paint chips and just pick some I liked. When the owner asked me what year it was, I jokingly told him "A '37 Chevy ½ ton, do you have the book?" Sure enough, he came out of the back with the original paint chips. We matched them up in the computer, so those are original colors. Try that in the big city.
Driving the truck was fun, and I put her in a few car shows and took home several trophies for "best paint" and "People's Choice." I eventually became ready for a new project, but the wife said only one toy at a time. So I sold the truck to a fellow in California. Last I heard he had put it in the museum for their tribute to Chevy trucks, and now is enjoying driving it in San Something city.
---
I've been asked by a few readers to recommend some good books on '37 Chevy Trucks.
How To Restore
I have How to Restore Your Chevrolet Pickup, by Tom Brownell. I have read it through several times. It has many specific tips and procedures that I found really useful during my restoration. I read it through first, before starting my project, and then I referred back to it many times once my project was underway.
History
I like Chevrolet Pickup Color History, which is also by Tom Brownell. It's not specifically about the 1937, but it covers everything from 1918 to 1994. Great information and wonderful pictures. This would be a good "coffee table" kind of book.
Shop Manual
You can still find a paperback book version of the 1937 Chevrolet Shop Manual online. This is what I had. A Shop Manual is very important if you intend to restore the truck to original condition.
But now you can also get factory licensed Shop Manuals for the '37 Chevy Truck on CD-ROM. I sure wish I had one of these when I was rebuilding my truck. In fact, these guys also have Shop Manuals for all Big Three makes and models from 1909 to 1981! One of the really cool features of these is that they include Parts Books. The Illustrated Parts Breakdown (IPB) diagrams in these are fantastic, and really help in understanding exactly how to assemble various parts. I've used this type of IPB on other projects before and found them invaluable.
Owner's Manual
First, the 1937 Chevrolet Truck Owner's Manual
scores really high on "cool points" for me. It also had many good pictures which proved very useful for restoration to original condition. I had the Owner's Manual, and I included it, along with the Shop Manual, when I sold the truck.
---
Return from '37 Chevy to About Me
Return to Kit Plane Advice Home
---