Fiberglass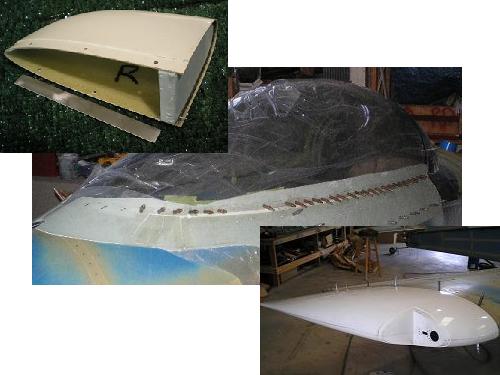 My least favorite part of building the airplane has to be doing fiberglass work. That said, the amount on an RV isn't really that much. Hopefully you can find something in here that will make the job a little easier or less daunting.



There are two schools of thought as to when the right time is to do this work. I think it will depend on your circumstances. I didn't want to do this work until I was finished moving, that way the additional pieces took up less space, and I didn't have to worry about them getting messed up. But you may find it easier to do the tips and fairings as you build.

It doesn't matter when you do it, eventually you have to put down the rivet gun, cover up your arms so they don't itch for a week, and get to it. Here are my thoughts on each of the assemblies:

Empennage Tips

Wing Tips

Intersection Fairing

Canopy Skirt

Wheel pants and leg fairings

Cowling

And here are some other tips and techniques I picked up during this process.

Tell Us About Your Fiberglass Experience
As you can see, I had only a few fiberglass parts to work. Did you have more to do on your project? Did you build a fiberglass airframe? Share the things you did and learned with the rest of us. Kit Plane Advice readers want to hear your story. Tell us about laying up large pieces, tips on getting that perfectly smooth finish, how to make plugs that easily remove from the final piece, or any other fiberglass related topic.

Or, if you want to ask a question about Fiberglass not already addressed here, please do so.

I will respond to all entries.
---
---