Throttle Controls
Advice for building kitplane throttle controls. This is specific to a Vans RV-8, but builders of other aircraft will find it useful.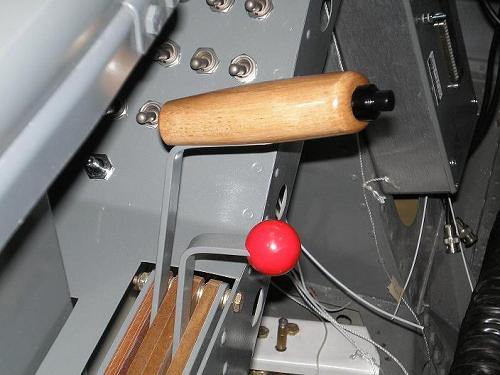 I only needed two handles: throttle and cowl flap. (My mixture is built into the EC II control head on the instrument panel.) Vans deluxe throttle was labeled wrong, and wouldn't allow the push to talk. So I started with Vans CT 82F, RV-8/8A 2-Lever quadrant.

It installed very easily, with no issues.

Because I "grew up" flying fighters, I expect a push to talk on the throttle. That button on the joystick is supposed to make things drop off the jet and go boom. The small round knob that came with the throttle wouldn't work.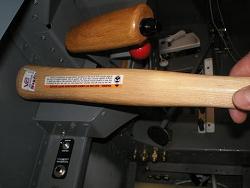 After walking around for a couple of weeks holding onto anything round that I could possibly turn into a handle, I settled on the portion of a hatchet handle that had a slight hump. I cut it to length and rounded the ends. Then I drilled a hole large enough for the push-button, and a small 1/8" hole through the rest of the handle to run the wires.

I placed the throttle lever on the bottom of the handle and traced the outline. I then spent some time with a knife and chisel to remove some wood to recess the lever.

I finished the wood with several coats of gloss polyurethane.

I drilled a second hole in the end of the throttle lever to hold the new longer handle. Two small wood screws hold it in place.

I ran the wires down the aft end of the lever and held them in place with a zip tie.
---
Return from Throttle Controls to Other Mods
Return from Throttle Controls to Kit Plane Advice Home
---