Selecting Avionics
Here are the avionics I bought, and why I chose them. Sometimes it was for features, or for size, or sometimes just that the price was right. If your needs are similar to mine, you might select these same instruments.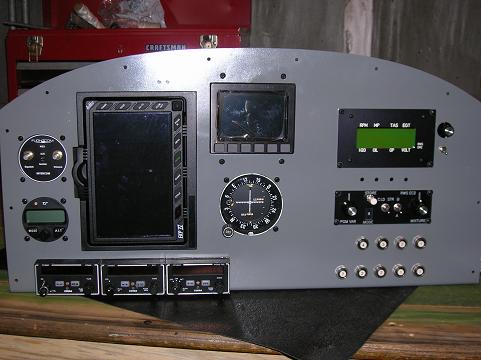 Mouse over to identify each instrument. Select one to read details.
Electronic Flight Information System (EFIS)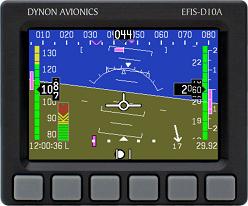 I knew an EFIS was a must for me. At Oshkosh one year I saw the Dynon, when it was still just a demo. I was very impressed. A few years later, when I was ready to buy, I went with them. I opted for the smaller unit because the RV-8 panel is pretty small. I payed the extra for the battery backup, because I didn't want an electrical failure to cause me to fly partial panel. Even with the battery, this one instrument weights about what one vacuum instrument normally does. The D10A has ten functions: attitude, airspeed, altitude, VSI, Mag compass, turn coordinator, turn rate, clock, G-meter, voltmeter, and HSI.

There are several other EFIS units out there, but none had as much for the same price.

The moving map GPS was next. I wanted as large a map as I could get. The AvMap EKP-IV fit the bill. It was light, had the features I wanted, and was compatible with the autopilot I was looking at. It also has a battery backup.
One of the features I really liked was the HSI page. This acts as a backup for my pitot/static system. It has heading, airspeed, altitude, and attitude all independent of the pitot/static.
I also bought the Airgizmo mounting tray. I liked the clean finished look it added to my panel. I could have fabricated a mount out of some aluminum angle, but I thought the Airgizo looked better.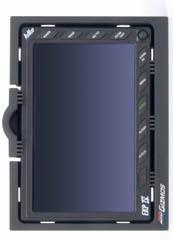 I riveted four pieces of angle aluminum to the panel and screwed the Airgizmo in place. The next time I pull it off, I'm going to mount nutplates on the back of the angles. That way, by removing four screws, I can have a huge access hole to the back of the panel. Click here for more info on what I'd do different with the instrument panel. I bought my mounting tray from Gulf Coast Avionics.
Nav/Comm/Trans Radios

I picked the Tierra NAV/COM/TRANS combo just because of the size. I didn't like the two lines of LEDs on the Tierra CDI, so I went with a King. I bought mine used from Wentworth and saved a bunch.
I opted for the Digitrak II autopilot. I liked its size, weight, features and price. I got the one with GPS input and only altitude hold, no VVI function. I figured I could do that part myself.
One of the things I did like was their trade in policy. If I decide in the future to upgrade, Trutrak will give me the purchase cost of mine towards the upgrade when I trade up. This can be found at Gulf Coast Avionics.
Intercom


I chose the Flightcom 403S intercom. It is stereo, even though my headset wasn't. (Here's how I converted the headset to stereo.) It has an extra input that I use for my MP3 player. The built in multiplexor was a huge advantage. This neat piece of electronics automatically cuts out the MP3 player when the aircraft radio makes any noise. It comes with a small rectangle face shown here, or the round one I used. Again Gulf Coast Avionics has it.
Engine Monitor and Control Instruments


I have chosen to install a Mazda Renasis engine in my RV-8. I'm using the EM2 engine monitor and the EC2 engine controller from Real World Solutions. These are specifically designed for this engine.


I will be adding pages later to this site which describe why I made that decision, and which describe the ways I have made that engine work right for me.
---
Return from Selecting Avionics to Instrument Panel
Return from Selecting Avionics to Kit Plane Advice Home
---