Instrument Panel Tips
What I Would Do Different
These instrument panel tips offer the advice I would give to someone doing their instrument selection right now. There are a few more options available than when I did mine, and I learned a few lessons that would just produce a better result.
Radios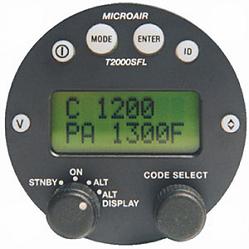 At the time I bought my radios, all that was available in the 2.25" round size was COMM and NAV—no TRANS. So I bought the Tierra NAV/COM/TRANS combo. If I was starting now, I would look seriously at the Microair or Becker COMM and TRANS.
I would go with one of the "All in one" NAV radios that include the CDI and fit in a 3.125" hole. One of the cheapest I've seen is the VAL Avionics INS-422 for under $2000. If you spend the money on a nice moving map, the NAV radio is really a back up for cruise, and is only the primary for the ILS landing if needed at the end.
Since many of the new EFIS systems include CDI, I would do some looking to see which option was better, an "All in one" or just a radio head tied into the EFIS for the CDI.
New radios can be bought cheapest from the big warehouses like Eastern Avionics and Gulf Coast Avionics.
Mounting the Moving Map
I mounted the Airgizmo using four pieces of angle aluminum riveted to the back of the instrument panel.
Then I used screws and nuts to fasten the Airgizmo to the angle aluminum.
The eight white spots on the picture are pre-made spots to attach with screws, but you only need to use four.
The next time I take the Airgizmo off, I will rivet nutplates to the back of the angle aluminum.
That way I don't have to reach around the back of the panel to remove it.
Then, in the future, I can have a large access hole by just removing the four screws from the front.
Attaching the radio trays
I attached the back of my radio tray to the F-820NPPL.G.box upper brace. I thought I had placed the bolt and nut in a position that would be easy to get to later. As it turned out, it's pretty hard to get to. I should have spent more time looking at this to ensure easy access to this screw for later access.
---
Return from Instrument Panel Tips to Instrument Panel
Return from Instrument Panel Tips to Kit Plane Advice Home
---