My Big Bear Chopper
I did a lot of searching on the web for rolling chassis and kits, and settled on the Big Bear Chopper. This was really a fun project to build. I had never built a bike before, so was a little apprehensive. They had a look that I liked, and the price for the entire kit was less than I would have paid had I bought a rolling chassis and separate parts to finish.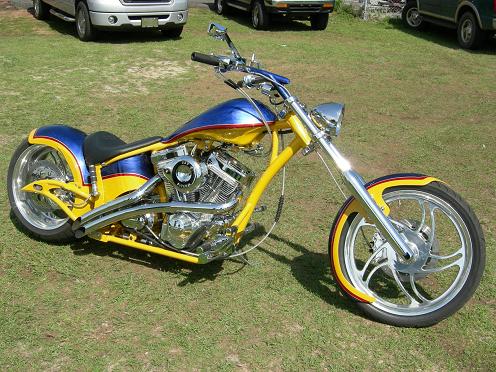 I liked the look of The Sled, but knew it was too long for me. So I got the Venom kit and swapped out the sheet metal for the Sled parts.

This is a well-designed kit! Everything is there. I mean everything. Every nut and bolt is included, there were no surprises, no missing brackets that had to be bought separately.

It comes with a DVD that explains how everything goes together. So building it was easy too. I bolted the parts together the first time to ensure everything fit. The rear fender took a little persuading to get it to fit nicely to the mounts on the swing arm. I had to stretch the down tubes on the handlebars to align them with the holes in the triple tree, and I had to do a little modifying of the seat because I wasn't using standard Venom parts. I also added a little piece of metal to the back of the tank to make it flow instead of just stopping short of the seat.

Then I pulled everything apart and sent it out to the painter. When the frame came back, I spent about a week installing the wiring. This was probably the hardest part, but still doable. The DVD gives good direction, and all the electronic components come with directions.

Then it was a matter of bolting the rest together, and I was ready to ride.

Big Bear Choppers has a help line that you can call if you have any questions. The couple of times I called, they were real helpful and friendly. They answered my question and I was right back into building.

Tell them I sent you.
---
Return from Big Bear Chopper to About Me
Return from Big Bear Chopper to Kit Plane Advice Home
---