Stereo Headset Conversion
Instead of replacing my favorite headset, I figured out how to do a stereo headset conversion. It was a lot easier than I initially thought it would be. About $20 worth of parts, a soldering iron, and a little time was all it took.
I had previously converted my headset to Active Noise Reduction (ANR). So I started my stereo conversion by comparing the directions for converting mono to stereo. I discovered that all I needed to do was run one wire, replace the plug, and add a second volume control.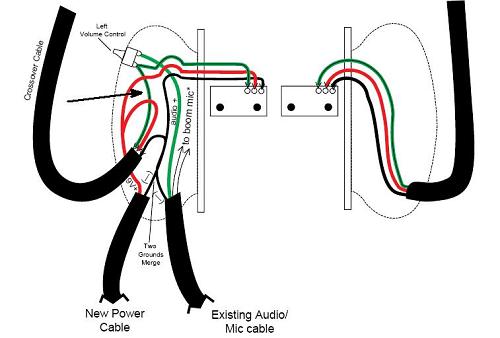 I bought a new rheostat for the right earcup, and a new stereo plug. I drilled a small hole in the right earcup for the control. I clipped the green wire and connected the ends to the two terminals of the rheostat.
Next, I clipped the wire indicated by the arrow and made sure the remaining wire on the volume control was still covered. I then ran a new wire up the length of the audio/mic cable, fished it through the hole into the left earcup, and connected it to the wire I had just cut.
I then cut off the old plug, stripped the wires and connected them to the new stereo plug.
I soldered all the connections and made sure they were all covered with heat shrink.
I installed the rheostat into the right earcup and replaced the rest of the electronics and foam.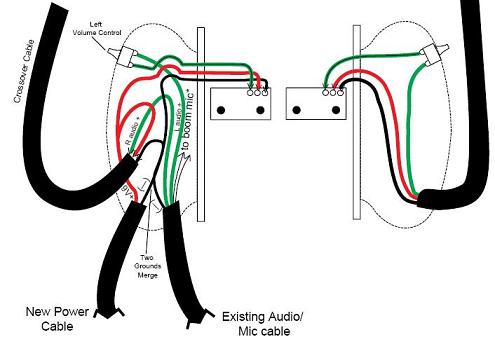 Here is the final product. It works perfectly and cost a fraction of what a new headset would have. All I have left is to find a handle for the new rheostat. I didn't realize when I bought it over the internet, that the handle wasn't included.

Because I was testing it out to see if it would work, I didn't want to spend extra money for aesthetics.

But now that I know it works, I may go back and buy a new stereo audio/mic cable with the plug already attached.

Getting rid of the white wire and having matching plugs would really dress the entire thing up.
---
Return from Stereo Headset Conversion to Other Mods
Return from Stereo Headset Conversion to Kit Plane Advice Home
---